Summary: Facebook abets a shadowy, intellectual-property thief. This thief has stolen rights to all of my videos since June 2022.
Details:
I broadcast my bike rides. I throw a GoPro HERO9 on my helmet and live-stream the ride to Facebook. The camera uses my phone's hotspot for data.
I know, it's silly. It's a gambit to get my Facebook friends to accost me for a $2 bill. (Only ten $2 bills have been distributed in the past 26 months.)
As self-created recordings of my own bike rides, these videos are my original creations. Despite that, since late June, every video ends up with a copyright notice:
When I click on the notice, I get an error:
Refreshing that page, I finally get useful info:
Huh, so Facebook alleges that a thief's fake property matches part of my video. Let's click See details and find out more:
Facebook says the 14.72 minute recording of my bike ride has 93.25 minutes of someone else's audio? 🤣 So many problems with this.
What are these 72 territories where the claim is asserted?
Heres' the 72 countries where Facebook allows a thief to steal my intellectual-property rights:
Andorra
Netherlands Antilles
Angola
Antarctica
Aland Islands
Azerbaijan
Bahrain
Burundi
Benin
Saint Barthelemy
Brunei
Bonaire, Sint Eustatius and Saba
Bhutan
Bouvet Island
Botswana
Belarus
Democratic Republic of the Congo
Central African Republic
Republic of the Congo
Ivory Coast
China
Cuba
Djibouti
Western Sahara
Eritrea
Ethiopia
Faroe Islands
Gabon
Greenland
Gambia
Equatorial Guinea
Greece
Guinea-Bissau
Haiti
Hungary
British Indian Ocean Territory
Iran
Comoros
North Korea
Liberia
Moldova
Saint Martin
Madagascar
Marshall Islands
Myanmar
Mauritania
Mauritius
Maldives
Mozambique
New Caledonia
Niger
French Polynesia
Papua New Guinea
Saint Pierre and Miquelon
Pitcairn
Sudan
Saint Helena, Ascension and Tristan da Cunha
Slovenia
Svalbard and Jan Mayen
Sierra Leone
Somalia
South Sudan
Sao Tome and Principe
Syria
Chad
French Southern Territories
Togo
Timor-Leste
East Timor
United States Minor Outlying Islands
British Virgin Islands
Wallis and Futuna
This is a diverse group of countries: Second World, Third World, Axis of Evil, microstates, client states, failed states, and more. The only commonality I can fathom is they might not take intellectual property seriously, making it easy for thieves to use them as property-theft tools.
If I hit Continue (see two screenshots above), I pass through some perfunctory dialogs:
Continuing, copyright tips that are inapplicable to someone who, like me, puts his original creation on Facebook:
Finally, I get to do something:
Selecting Submit dispute then Continue brings more perfunctory dialogs:
Now I can submit the dispute. I filled out the Submit dispute dialog:
Pressing Submit nearly always brings me to a final dialog, saying that my dispute was accepted and more information that is irrelevant to people uploading their original creation:
Now the original support message says the audio was restored: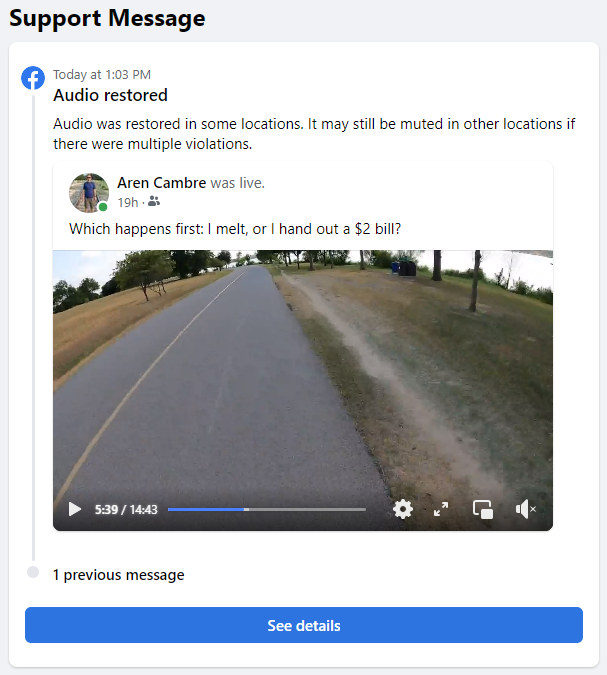 This is not an isolated occurrence. It has been happening since June 28. Here's a screenshot of my Facebook support inbox:
This usually works but not always. I am incapable of shoving the thief off of one of my June videos. Every dispute attempt on that video ends in an error:
Is this an example of Facebook providing even more aid and comfort to intellectual-property thieves?
This experience concerns me on several levels:
Facebook allows thieves to use its system to steal rights to others' intellectual property.
Facebook does not tell me which part of my original creation is triggering the thief's false claim.
Facebook does not identify the thief to me.
Facebook's interface appears to be designed to assist the thieves, using error messages to thwart intellectual-property owners.
At what point will Facebook suspend my account due to too many intellectual-property issues?
Here's the same video, on YouTube (no fake copyright violations!):
I challenge you to spot a copyright violation in it.
Technical notes that may be inconsequential:
The video that Facebook sees is the broadcasted video, which is what the GoPro sends to Facebook through my phone's hotspot. The above YouTube video is straight off the GoPro's SD card. Having artifacts of running through a hotspot with variable speed, such as occasional skips or glitches, the broadcasted video will be lower quality than the SD-card-sourced YouTube video.
My videos are usually much longer. The one that is the subject of this post is short because the camera turned itself off during my ride. That happens once or twice a month in hot weather, possibly due to overheating. The battery was at 77% when I restarted the camera.
On occasion, when I ride by someone who has a speaker going, my video may pick up a brief recording of whatever music is playing. This is again unusual and is a brief recording further harmed by a lot of wind noise. These possible incidental recordings have never before triggered a copyright notice, so I don't think they explain this issue. I once inadvertently included an incidental recording into another video–not bike-ride related–and I remember Facebook identifying the copyright holder, unlike what happens in this incident.