Even though Dallas slashed its DUI enforcement, key DUI-related stats are level or improving. Here's the numbers: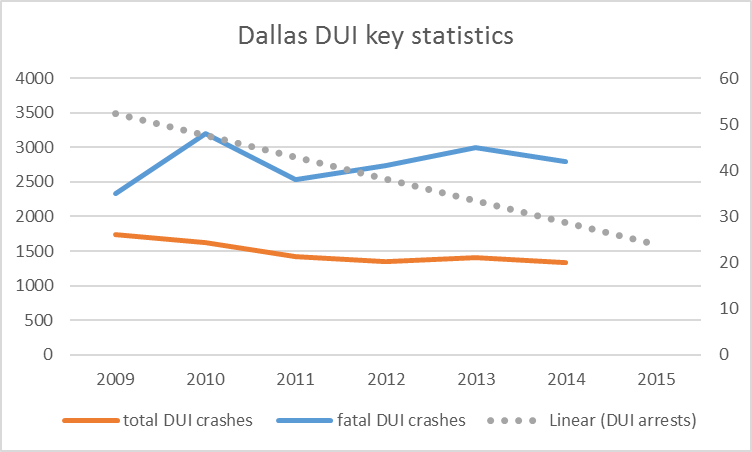 Despite a two thirds drop in DUI arrests:
Fatal DUI crashes didn't meaningfully change.
All DUI-related crashes have dropped by 23%.
In a sloppy hit piece on Dallas police chief David Brown, WFAA journalist Tanya Eiserer misses this. Instead, she stokes a moral panic.
Is ineffective enforcement an anomaly? Probably not. My doctoral dissertation was over a closely-related topic. In short, I found that differences in traffic ticketing levels have no effect on crash counts. This echoes related research with similar findings.
Tanya ends her hit piece with:
Last year, 15 men and women died in Dallas in drunken driving accidents. Tell it to them and their families that drunk driving enforcement isn't a priority.
Tanya, that's terrible! Dredging up the deceased in an appeal to emotion fallacy, all to promote something that may be ineffective, why? Shouldn't we expect better from WFAA? (By the way, if only 15 died, then we'd have record-smashing safe year!)
In cutting DUI enforcement, Chief Brown reduced spending on something that doesn't work. But that doesn't play into MADD's neo-prohibitionist agenda, so it has to change, I guess?
(All numbers in this article come either from Tanya's shoddy journalism or TxDOT's Texas Motor Vehicle Crash Statistics.)